CIMTAS PIPE- Integrated Piping Solutions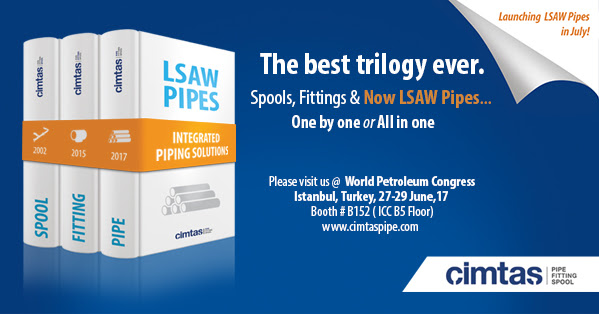 "THE BEST TRILOGY EVER";
INTEGRATED PIPING SOLUTIONS!

| | | |
| --- | --- | --- |
| | CIMTAS PIPE (CP), a market-leading company providing engineering, procurement, welded fabrication, forming, machining and painting services of pipe spools and fittings serving the Power, Oil, Gas & Chemicals, Metals & Mining and Nuclear industries will shortly be completing the 'Best Trilogy' by launching CP LSAW Pipe Works! | |
| | Started its operations firstly by fabricating wide range of pipe spools with advanced technology, CIMTAS PIPE, next, commenced the manufacturing of fittings, flanges and branch connections in 2015. These new product series including the pipe branch connections are engineered by "CIMTAS PIPE (in-house) Engineering Department" and manufactured in 13,500 sqm closed shop equipped with the most modern technology. | |

| | | |
| --- | --- | --- |
| | With the official inauguration of the 'CP LSAW Pipe Works' scheduled to open in July 2017, CIMTAS PIPE will provide pipe spools, fittings and LSAW pipes from a single location introducing "Integrated Piping Solutions – IPS", the most effective solution for all clients. | |
Integrated Piping Solutions – IPS

Ahead of the Industry Standards
With "Integrated Piping Solutions – IPS", current industry best practice delivery time of the pipe spools reading 7-8 months will be halved and high quality pipe spools will start to be delivered in 3-4 months following an order.
Seamless Execution with Integration
As a result of working with a single supplier having countless benefits including but not limited to the interfaces, expediting, transportation and customs provisions for Pipe Spools Fittings and LSAW Pipes CIMTAS PIPE clients are ensured with full satisfaction.
'One by One' or 'All in One'
'Pipe Spools' thru "Integrated Piping Solutions – IPS" or
'LSAW Pipes', Fittings' and 'Pipe Spools' individually
We hereby invite you to get in touch with one of our executive colleagues to learn more about our capabilities.